Gossips in the workplace – an age-old companion of office life. Whether whispered in the break room or exchanged through text messages, workplace gossip can sometimes feel as inevitable as the morning coffee run. Often, it's the "marites," the seasoned gossipers, who thrive on these tidbits of information. But can there be a silver lining in this tangled web of conversations? This article explores how to handle the office grapevine with grace, why some might even find value in it, and ultimately, how to leverage it for career growth and mental well-being.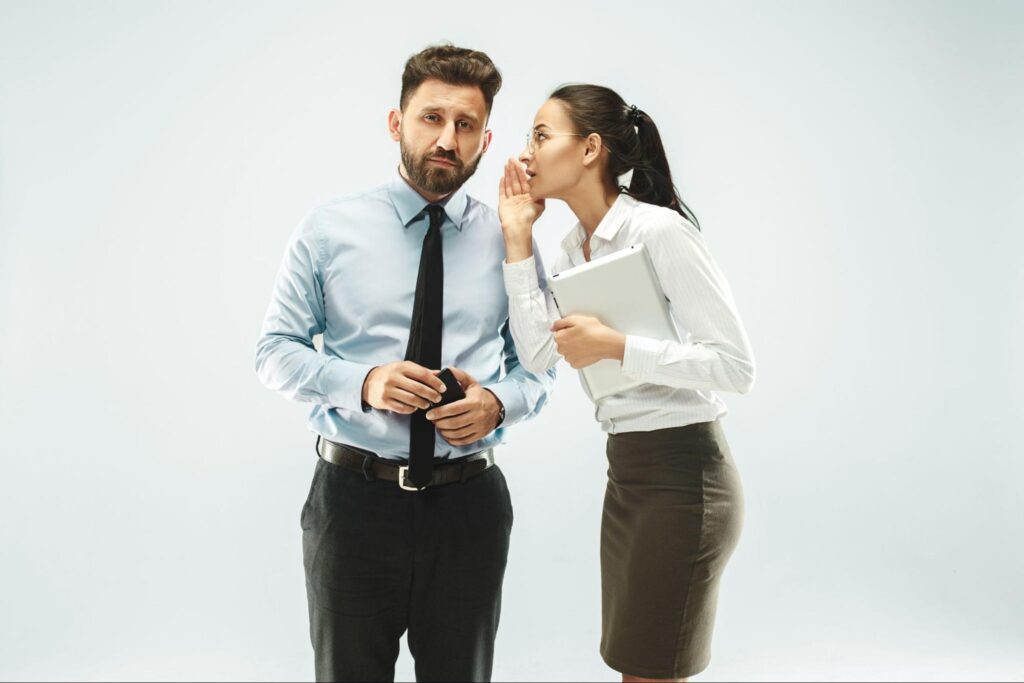 Image by master1305 on Freepik
---
Dealing with the Marites
"Marites" is a colloquial term in the Philippines, usually referring to someone who feeds on and perpetuates gossips. These individuals are often more interested in stirring the pot than in the actual content of their gossip. To handle them:
Stay Neutral: The easiest way to escape being a target of gossip is to stay neutral in workplace discussions. Engaging in gossip often fuels the fire.
Direct Communication: If the gossiper is someone you trust and feel comfortable with, consider discussing the issue directly with them. They might not be aware of how their actions affect others.
Seek Support: Talk to your close colleagues or HR if the gossip is causing significant distress. Sometimes, a collective approach is necessary to address a chronic marites.
Avoiding Involvement
Avoiding workplace gossip can sometimes be as challenging as avoiding the smell of freshly brewed coffee. Here's how to steer clear:
Change the Subject: Politely shift the conversation away from gossip. Bring up a neutral topic or something related to work. Changing the subject not only keeps you out of the gossip loop but can also redirect the conversation towards more productive matters.
Busy Schedule: Make it clear that you're swamped with work and can't indulge in lengthy conversations. Sometimes, feigning a hectic schedule can be the perfect excuse to avoid unnecessary chitchat.
Create Boundaries: Let your colleagues know that you prefer to focus on your job and limit your personal discussions at the office. Setting boundaries can deter office gossips from drawing you into their conversations.
Gossips to Your Advantage
Surprisingly, gossip can sometimes be a useful tool:
Career Insight: Gossips can provide insights into the inner workings of the organization. While not all information may be accurate, you can learn about potential shifts, layoffs, or upcoming projects. When appropriate, listening to these office rumors can help you stay ahead of changes in the company and make informed decisions regarding your career.
Networking: Engaging in moderate, controlled gossip sessions can also help build relationships with colleagues. It's a way to connect on a personal level. Instead of dismissing all forms of gossip, consider using it as an avenue to bond with your coworkers.
Gossips and Mental Health
Harnessing gossips for mental well-being can be a trickier endeavor:
Toxicity Alert: Avoid gossips that focus solely on negativity, personal attacks, or sensitive issues. These conversations can be detrimental to your mental health. Your emotional well-being should be a priority, so don't be afraid to distance yourself from harmful gossips.
Positivity Boost: Use gossip as a source of positive stories, whether they're about a colleague's achievements or inspiring experiences. When the grapevine offers uplifting tales, embrace them to boost your mood and maintain a positive perspective at work.
---
Gossips in the workplace are a multifaceted issue. They can be annoying, harmful, or even surprisingly helpful, depending on how you handle them. While steering clear of negative gossips is crucial, engaging in positive conversations and extracting valuable insights can also contribute to both your career growth and mental well-being. So, navigate the office grapevine with discernment and control, and you might find it's not as prickly as it seems.
---
Asiawise also provides friendly advice and coaching on work-related concerns. To know more about Asiawise CareerBoost Programs, click here.
For feedback and story suggestions, email newsletter@asiawiseu.com.