In the competitive realm of job hunting, the interview is the gateway between aspirations and achievements. It's the juncture where your skills, experiences, and personality converge to create a lasting impression on potential employers. To navigate this pivotal phase with finesse, mastering the art of job interviews is essential.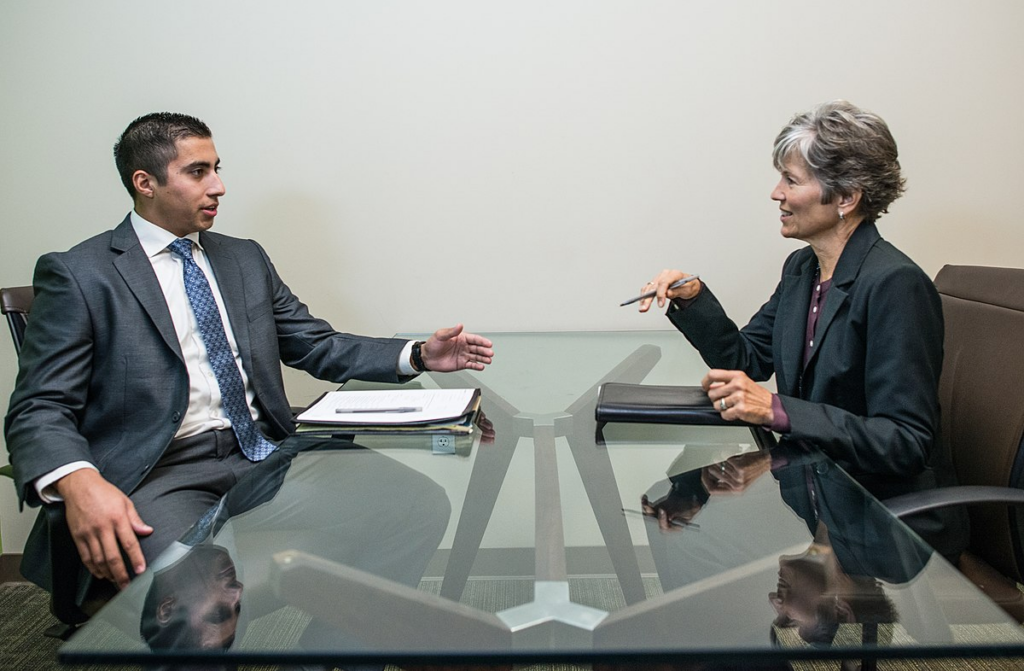 Photo credits: "Young Man in a Interview" by Amtec Photos is licensed under CC BY-SA 2.0 /Amtec Creative Commons, CC BY-SA 2.0 <https://creativecommons.org/licenses/by-sa/2.0>, via Wikimedia Commons
---
Crafting Your Responses: Navigating Common Questions
Walking into an interview room can evoke a mix of excitement and anxiety. The key to overcoming nervousness lies in meticulous preparation. Anticipate frequently asked questions and script your responses to showcase your strengths and suitability for the role.
"Tell me about yourself?"
This seemingly open-ended question is your opportunity to present a structured snapshot of your professional journey. Start with a concise overview of your background, education, and experiences. Then, pivot to highlight the skills and accomplishments that directly relate to the job you're interviewing for. Keep it relevant and concise, focusing on aspects that align with the role's requirements.
"What is your greatest weakness?"
While it may seem like a trap, this question aims to assess your self-awareness and your willingness to address areas for improvement. Choose a genuine weakness that is not a fundamental requirement for the role, and most importantly, demonstrate your proactive efforts to overcome it. This showcases your growth mindset and determination to develop professionally.
"Describe a challenging situation you've faced at work and how you resolved it."
This behavioral question aims to uncover your problem-solving abilities and how you handle adversity. Choose a scenario that highlights your adaptability, collaboration, and the steps you took to overcome the challenge. Emphasize the positive outcome and what you learned from the experience.
"How do you handle working under pressure?"
Highlight your ability to manage stress effectively by describing a specific example where you successfully navigated a high-pressure situation. Discuss the strategies you employed to remain focused, organized, and productive. This demonstrates your resilience and your capacity to thrive in demanding environments.
"Why did you leave your previous job?" or "Why are you looking to leave your current job?"
Answer with professionalism and positivity. Focus on the opportunities you seek in the new role rather than dwelling on any negative aspects of your previous position. This demonstrates your forward-thinking mindset and your motivation to contribute to the prospective employer's success.
---
By rehearsing and refining your responses to these common questions, you'll enter the interview room well-prepared and confident. Remember that authenticity is key – let your true self shine through your answers, showcasing your unique qualities and the value you bring to the table.
The Attire: Dressing for Success
First impressions are lasting, and attire plays a significant role in that impression. The golden rule is to dress slightly more formally than you think is required, as this reflects your professionalism and respect for the interview process. Attire should align with the company's culture while projecting your confidence and seriousness about the role.
For Men
Suit: Opt for a well-fitted suit in classic colors like navy, charcoal gray, or black. If the company culture is more relaxed, you might skip the jacket and go for a dress shirt and tie.
Shirt: Choose a clean, ironed, and well-fitting dress shirt. Stick to neutral colors like white or light blue.
Tie: If wearing a suit, a tie adds a polished touch. Go for a conservative pattern or solid color that complements your suit.
Bottoms: Wear dress slacks that coordinate with your suit jacket or dress shirt. Avoid jeans or casual pants.
Shoes: Opt for closed-toe dress shoes in dark colors, such as black or brown. Ensure they are clean and polished.
Accessories: Keep it minimal. A classic watch and a simple belt are sufficient.
For Women
Suit: A tailored pantsuit or skirt suit is a great choice. Stick to neutral colors like black, navy, or gray.
Blouse: Wear a professional blouse that complements your suit. Opt for conservative colors and avoid plunging necklines.
Skirt or Pants: If wearing a skirt, choose a knee-length or slightly below knee-length option. Pants should be well-fitted and not too tight.
Shoes: Closed-toe heels or flats are appropriate. Stick to neutral colors and avoid excessively high heels.
Accessories: Keep it elegant and understated. A simple necklace, stud earrings, and a watch can enhance your look.
Additional Tips
Grooming: Pay attention to personal grooming. Your hair should be clean and neat, and nails should be trimmed and clean.
Fragrance: Avoid strong perfumes or colognes that could overwhelm the interview room.
Fit: Ensure your attire fits well. Ill-fitting clothes can convey a lack of attention to detail.
Ironing: Wrinkled clothes can give a sloppy impression. Iron your clothes before the interview.
Bag or Briefcase: Carry a professional bag or briefcase to hold your documents and personal items.
---
Remember, a well-chosen outfit can bolster your self-assurance and create a positive initial impact, setting the tone for a successful interview. As you decide on your interview attire, consider the industry and company culture to strike the right balance between professionalism and compatibility. The goal is to let your qualifications and personality shine, supported by your impeccable appearance.
Mastering Non-Verbal Communication
Communication is not solely verbal; non-verbal cues significantly contribute to your message. Engage in active body language by maintaining eye contact, offering a firm handshake, and sitting up straight. These gestures portray confidence, respect, and an eagerness to engage in meaningful conversation.
During the interview, practice active listening – nod and respond thoughtfully to show your interest in what's being said. Your body language should reflect your enthusiasm for the position and the conversation.
Preparation: The Foundation of Confidence
Knowledge is power, and thorough research is the foundation of confidence. Delve into the company's history, values, recent achievements, and industry trends. Tailor your responses to showcase your alignment with their mission and your understanding of their goals.
Having intelligent questions prepared to ask the interviewer demonstrates your genuine interest and engagement. It's an opportunity to showcase your curiosity and eagerness to learn more about the company and role.
The Role of Asiawise: Elevate Your Interview Game
Recognizing the significance of job interviews, Asiawise Study Center offers its CareerBoost program. This comprehensive initiative equips individuals with a range of skills necessary for excelling in interviews and landing the job of their dreams.
From crafting resumes that make an impact to mastering mock interviews that refine your responses, CareerBoost empowers you with the tools needed to confidently navigate the intricate world of job interviews.
In the intricate tapestry of professional growth, the job interview is a defining thread. By honing your skills, perfecting your responses, and leveraging resources like CareerBoost, you can confidently stride into interviews, leaving a lasting mark and unlocking doors to new career horizons. The path to success is illuminated – now, it's your time to shine.
To know more about our CareerBoost Program, click here.
For feedback and story suggestions, email newsletter@asiawiseu.com.