In this edition of Asiawise Newsletter's "Asiawise Idol | Success Stories," we feature the remarkable journey of Dr. Maribon "Bon" M. Obias, a specialist in General Medicine, Internal Medicine, Preventive Medicine, and Primary Care. Dr. Obias is not only an accomplished physician today, but she was also among the first students of Asiawise Study Center. Her story serves as a testament to the effectiveness of the center's programs and the impact they have on shaping the lives and careers of their students. Let's delve into Dr. Obias's inspiring journey and learn about the role Asiawise played in her path to success.
---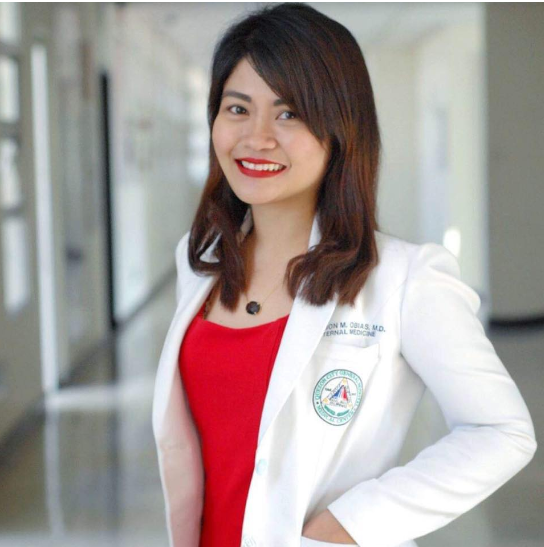 Asiawise Study Center has always been committed to nurturing academic excellence and guiding students on their path to success. Dr. Maribon "Bon" Obias, a distinguished physician serving her fellow Bicolanos, is a testament to the center's mission and impact. In an exclusive interview, Dr. Obias shared her experience as one of the first students of Asiawise Study Center's College Admission Test Review, her journey through medical school, and the invaluable role the center played in shaping her success.
Reflecting on her experience as one of the pioneers of Asiawise Study Center's College Admission Test Review, Dr. Obias expressed the value it brought to her preparations for the University of the Philippines College Admission Test (UPCAT) and the University of Santo Tomas College Entrance Test (USTET):
"Being one of the first students of Asiawise Study Center was a valuable experience. We had the advantage of having a focused group discussion since there were few students back then. The methods used for teaching and reviewing were also new, but refined."
As a pioneer, Dr. Obias was privileged to receive personalized attention from her instructors:
"They focus more on the individual needs of each student and provide more personalized guidance."
This personalized approach not only enhanced her understanding of the subjects but also boosted her confidence during the exam. Dr. Obias enthusiastically recommends the review program to future students, acknowledging its potential to help them prepare for their college admission tests.
Both the UPCAT and USTET are known for their rigorous and competitive nature. Dr. Obias shared her strategies for managing the challenges of the exam and achieving success:
"Preparing for the UPCAT requires dedication, hard work, and perseverance. With the right strategies and mindset, anyone can succeed in the exam."
She further outlined her strategies, emphasizing the importance of starting early, getting familiar with the format, practicing sample tests, focusing on weaker areas, staying calm and confident, managing time effectively, reading instructions carefully, and getting enough rest.
After passing both the UPCAT and USTET, Dr. Obias pursued her studies at the University of Santo Tomas (UST), a prestigious institution renowned for its commitment to producing competent and compassionate professionals. Reflecting on her time at UST, Dr. Obias highlighted its profound impact on her academic and personal growth, as well as her decision to pursue a career in medicine:
"UST provided me opportunities for research and clinical experience, which are essential for those considering a career in medicine. My stay at the university has provided me with a valuable foundation for success in my medical profession."
Dr. Obias shared insights into her rigorous medical education journey and the notable experiences and challenges she encountered along the way:
"Studying medicine typically involves several years of rigorous academic and clinical training. One notable experience or challenge during medical school that I experienced was the intense workload and pressure to perform well academically."
Despite these challenges, Dr. Obias viewed her medical education and training as rewarding and fulfilling, enabling her to positively impact the lives of her patients.
As a specialist in Internal Medicine, Dr. Obias discussed her motivations for choosing this field and the impact she aims to make as a physician:
"Internal Medicine offers the opportunity to develop long-term relationships with patients and diagnose and treat complex medical conditions. It provides a wide range of career pathways and opportunities for professional growth."
Dr. Obias acknowledged the influence of Asiawise Study Center on her approach to learning and career development, recognizing its crucial role in her success:
"Asiawise Study Center played a significant role in my academic journey. It provided a structured and focused approach to exam preparation, which saved me time in searching for study materials. It also allowed me to build a network of like-minded individuals."
She highlighted specific skills acquired from the center, including test-taking strategies, critical thinking, time management, and effective study techniques.
Reflecting on her academic and career milestones, Dr. Obias offers advice to aspiring students pursuing challenging fields such as medicine. She emphasizes the importance of early preparation, academic focus, gaining healthcare experience, and thorough preparation for entrance exams like the National Medical Admission Test (NMAT). She encourages students to apply broadly, seek mentors and support systems, and stay focused and motivated throughout their journey.
Dr. Maribon M. Obias's journey from being a student at Asiawise Study Center to becoming a licensed physician is an extraordinary story of determination, hard work, and the influence of quality educational guidance. Her story serves as an inspiration to students and professionals facing their own challenges. Her achievements stand as a testament to the effectiveness of the center's programs and the transformative impact they can have on students' lives. Dr. Obias's story will undoubtedly inspire countless others to pursue their dreams with dedication, resilience, and the belief that success is within their reach.
---
If you want to be a doctor like Doc Bon, you must take and pass the National Medical Admission Test (NMAT) first to study medicine. To know more about our NMAT Review Program and how it will help you and your friends, click here. Free practice test included!
For feedback and story suggestions, email newsletter@asiawiseu.com.