National Medical Admission Test (NMAT):
Key Dates and Guidelines
As aspiring medical professionals gear up for their journey into the world of medicine, the National Medical Admission Test (NMAT) stands as a crucial milestone on their path to success. Scheduled on January 14, 16, 18, 20, 21, 25, 27, 28, and 30 as well as February 3 and 4, 2024, the NMAT serves as a gateway to medical degree programs in the Philippines. The registration period is currently underway and will continue until November 10, 2023. As the respected Center for Educational Measurement, Inc (CEM) administers the NMAT, let's delve into the essential details every aspiring medical student needs to know.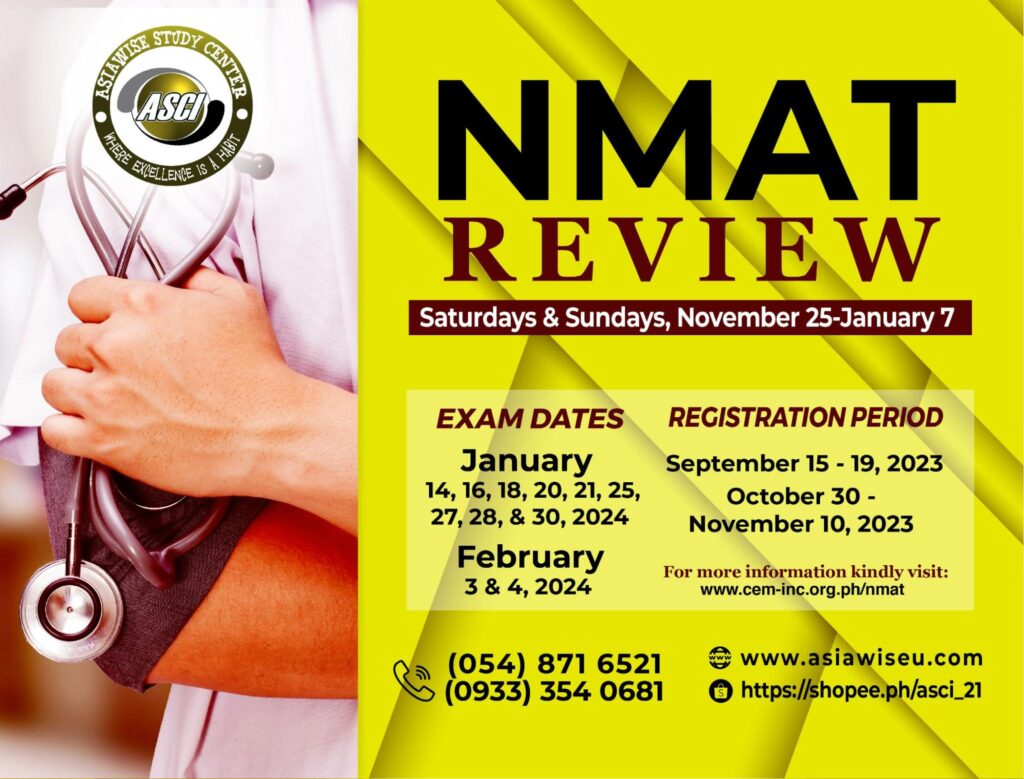 Gateway to Excellence:
NMAT and Your Medical Journey
Who Should Take the NMAT?
College graduates
Graduating college students at the end of the current school year
Students in their second year of programs like UP College of Medicine's Integrated Liberal Arts and Medicine (INTARMED) or UST Faculty of Medicine and Surgery's Bachelor of Science in Basic Human Studies (LEAPMed)
Individuals who previously took the NMAT but didn't meet the minimum cut-off score
Those with valid NMAT eligibility who wish to improve their scores
For foreign applicants, compliance with CHED Executive Order 285 series of 2000 Consolidated Implementing Guidelines on the Entry and Stay of Foreign Students in the Philippines and CHED Memorandum Order No. 18 series of 2016 is essential.
Validity Period and Minimum Cut-off Score
According to CHED Memorandum Order No. 18 series of 2016, the NMAT must be taken within two (2) years from admission to medical school, with a percentile score meeting or exceeding the prescribed limit by the school or the Commission, whichever is higher.
How to Register for the NMAT?
Create an account
Verify your email address
Register and select your preferred payment channel on the online portal
Check your email for payment instructions and view your NMAT Registration Form
Pay the applicable fees
Await payment confirmation receipt via email
Ensure you have a valid email account, an unretouched digital photo, Transcript of Records for graduate applicants or Certificate to Graduate for graduating applicants, valid ID or passport for foreign applicants, and a Philippine mailing address.
Internet Browser Compatibility
The NMAT website functions optimally on Google Chrome.
---
As the NMAT draws near, meticulous preparation is paramount. The NMAT isn't just an exam; it's a step towards fulfilling your dreams of becoming a medical professional. So, mark your calendars, gather your documents, and embrace this opportunity to showcase your potential. As you prepare, remember that Asiawise stands as a beacon of support, fostering excellence and empowering students through our academic tutorial services. We wish all aspiring medical students the best of luck on their NMAT journey!
---
Pass the exam with flying colors. Join our NMAT Review Classes on Saturdays and Sundays, November 25, 2023 to January 7, 2024. Enroll now by clicking here. Access a comprehensive and proven program for acing the exam and gaining a competitive edge.
DOST Undergraduate Scholarship Exam: Key Dates and Guidelines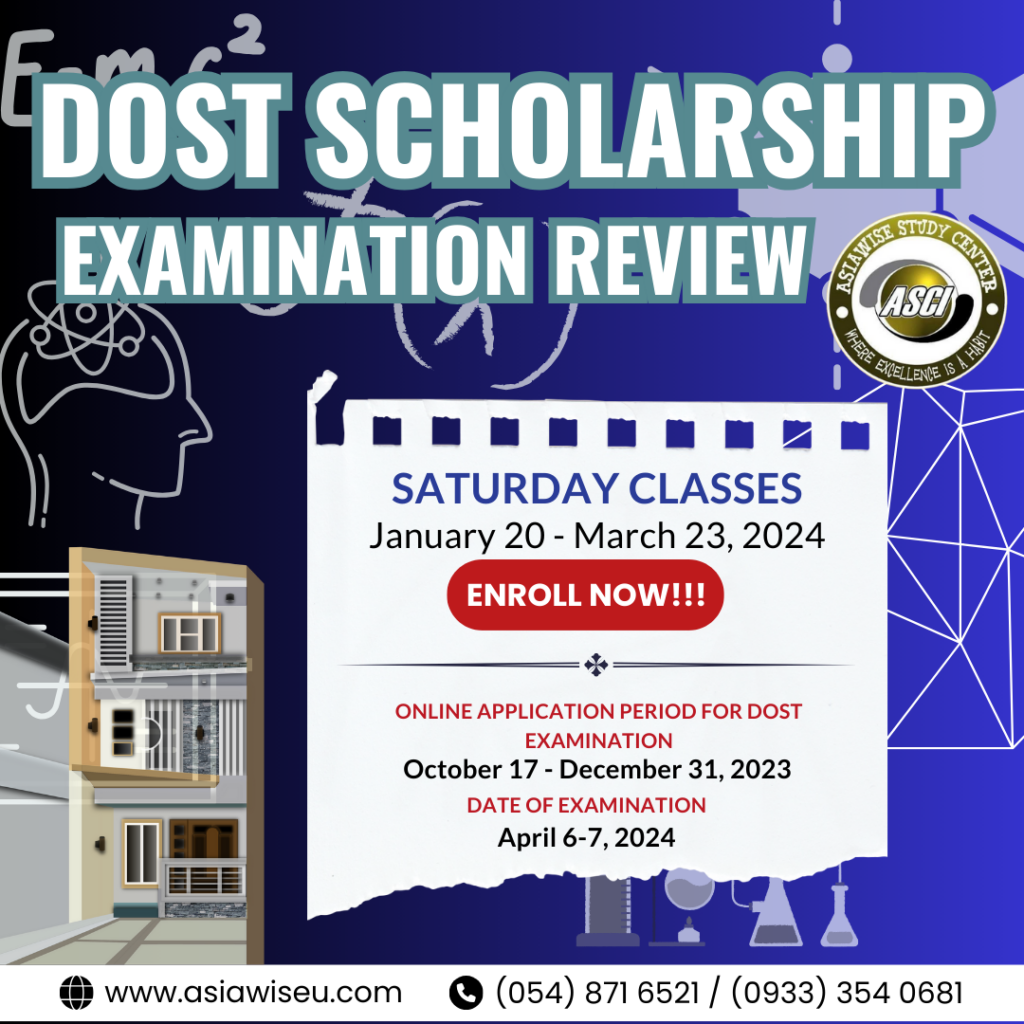 The S&T Undergraduate Scholarships Program is a beacon of hope for young, talented Filipino minds, aiming to ignite their passion for science and technology. It's a vital initiative with a two-fold mission: to inspire the pursuit of productive careers in S&T and to provide the nation with a steady supply of skilled and qualified human resources, propelling the country towards unprecedented progress.
Qualifying for the DOST scholarship is an honorable achievement but not an easy task. Only the most deserving candidates make the cut. Are you wondering if you have what it takes? Let's delve into the eligibility criteria:
Graduating Grade 12 Students (SY 2023-2024):
* STEM Strand: All STEM students.
* Non-STEM Strand: Top 5% of the graduating class.
High School Graduates (Before SY 2023-2024, yet to enroll in college):
* STEM Strand: All STEM graduates.
* Non-STEM Strand: Top 5% of the graduating class.
High School Graduates (Pre-K-12 Program): Top 5% of the graduating class.
Must be a natural-born Filipino citizen.
Must maintain good moral character and excellent health.
Must not have acquired any post-secondary units.
Should take the DOST-SEI Undergraduate Scholarship Examination and either not qualify for it or be eligible but not have availed it yet.
Ensuring that your educational journey aligns with DOST scholarship guidelines, you should be admitted to state universities or colleges, network institutions recognized by DOST-SEI, or Centers of Excellence/Development as identified by CHED.
📅 Important Dates:
Online Application Starts: October 17, 2023
Deadline for School Inclusion Requests: December 15, 2023
Final Day for Online Application and Document Upload: December 31, 2023
Qualifying Examination: April 6-7, 2024
DOST Scholarship Benefits
As you embark on this journey with the DOST scholarship, you can look forward to these invaluable benefits:

* School Tuition and other Expenses: Either ₱10,000 or ₱8,000 per semester.
* ₱10,000 Book Allowance.
* ₱500 PE Uniform Allowance (First Year Semester).
* Round-trip Allowance for those studying outside their home province.
* Additional support of ₱5,000 for select courses.
* ₱4,000 monthly allowance for DOST-SEI major or priority courses.
* Financial aid of ₱1,500 for summer classes.
* Second book allowance of ₱500 (upon submission of an official receipt).
Seize the opportunity to shape your future; apply NOW at DOST Scholarship Application and let Asiawise be your guiding light towards success. Enroll today at Asiawise Study Center and embark on your journey to greatness! 🌟