🏆 ASIAWISE TUTORIAL STUDENT BAGS
GOLD IN MATH OLYMPIAD 🌟🥇
Asiawise Study Center is thrilled to announce the remarkable achievement of one of our own. Join us in congratulating KIEFER MAVERICK PASION for his outstanding feat – winning the esteemed Gold Award at the Philippine International Mathematical Olympiad (PhIMO) 2023 in Davao City, Philippines!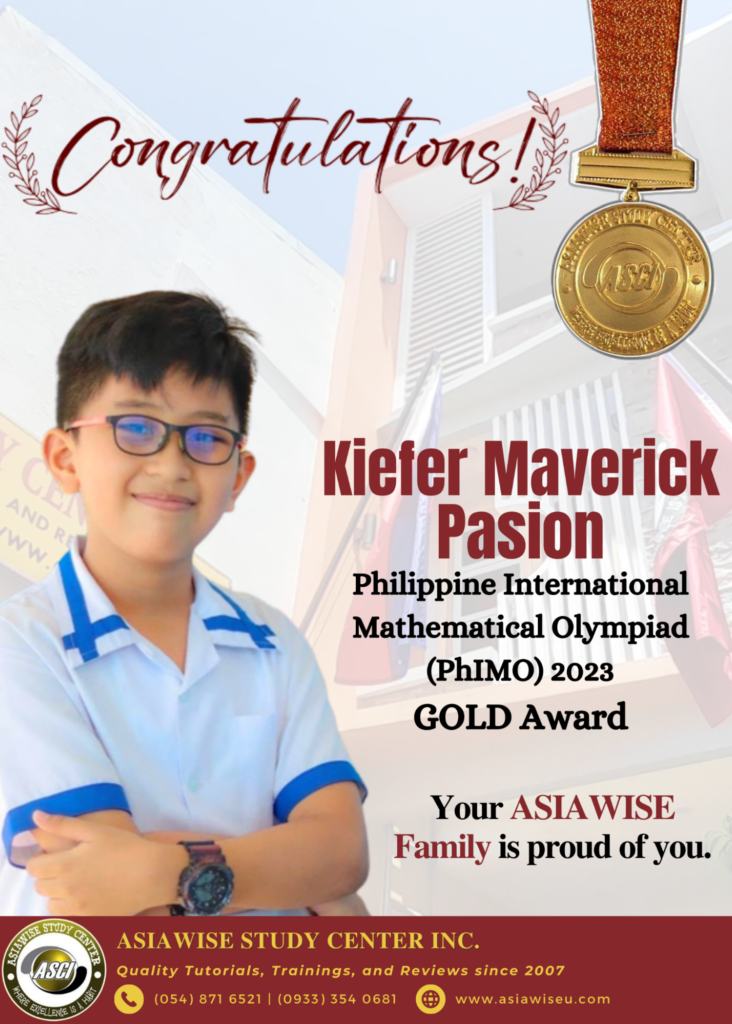 Mavi, your dedication and passion for mathematics have truly paid off. 🎉👏
This is a shining testament to your hard work and a reflection of the quality education you've received. Asiawise Study Center takes pride in having you as an exceptional student.
Let's continue to reach for the stars! 🚀🌠
📚🚀 Law School Admission Tests
Review Program 🚀📚
Ready to ace the Law School Admission Tests (LSAT)? Join our LSAT Review Program and unlock the path to your legal career!
🗓️ Review Schedule: Flexible
🎯 Why Choose Asiawise?

✅ Expert Instructors 🎓
✅ Proven Strategies 📚
✅ Personalized Attention 👥
📚 Exclusive Features:

✅ Small Class Sizes for Focused Learning 📖
✅ Tailored Techniques for Each Section ✍️
✅ Personalized Attention from Experienced Mentors 🧑‍🏫
🎉 Special Discounts Available!

✅ Group Enrollees (Min. 3) 🤝
---
Ready to conquer the LSAT? 🚀 Enroll now at www.asiawiseu.com and take the first step towards your legal journey! 🌟🎓
🏛️ Civil Service Exam (CSE) Review Classes 📚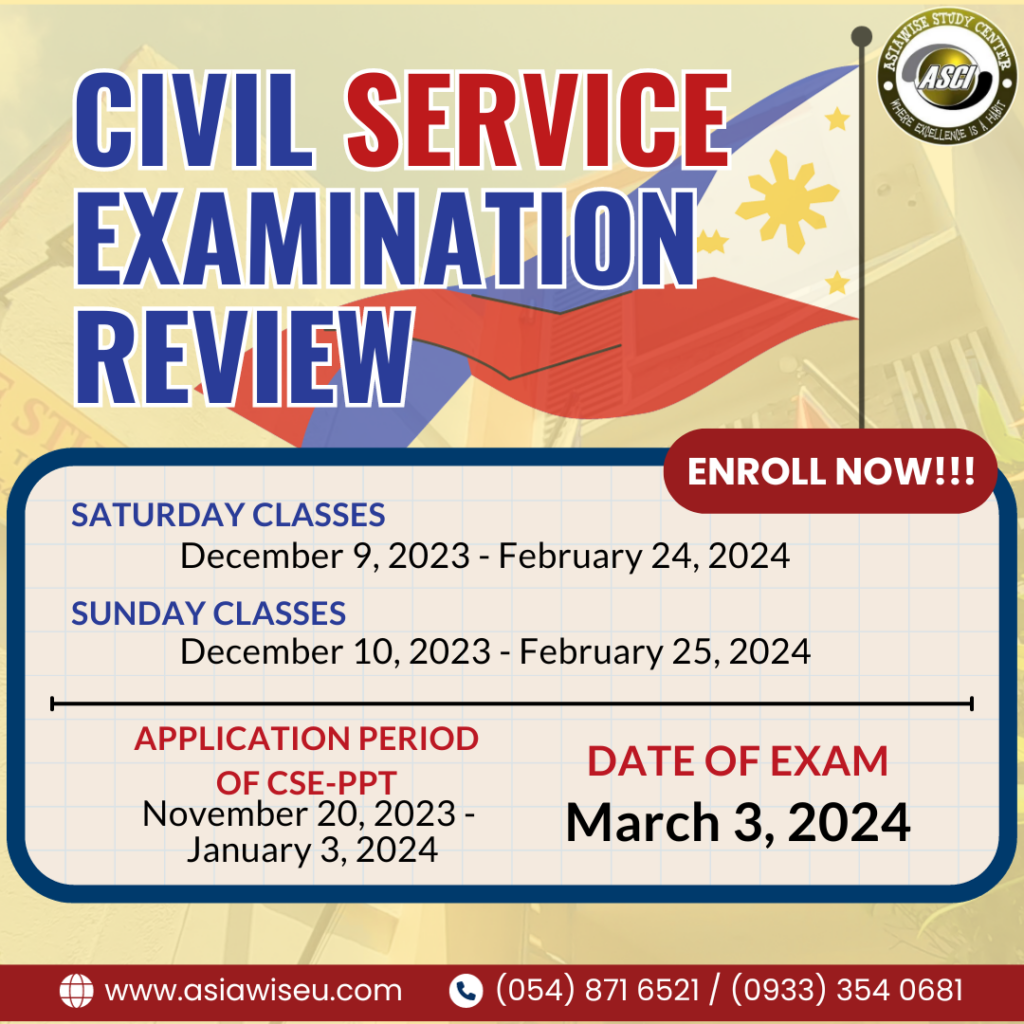 Join Asiawise CSE Review and Skyrocket Your Success in Style! 🚀
📅 Enroll in Saturday Classes:
December 9, 2023 – February 24, 2024
📅 Enroll in Sunday Classes:
December 10, 2023 – February 25, 2024
📆 Application Period for CSE-PPT:
November 20, 2023 – January 3, 2024
📅 CSE-PPT Exam Date:
March 3, 2024
📚 Why Choose Asiawise for Your CSE Review?

🎯 Expert Instructors 🎓
📈 Proven Strategies 📊
📝 Comprehensive Review Materials ✍️
🌐 24/7 Access to Our Virtual Classroom 💻
🧑‍🏫 Personalized Coaching & Support 🤝
---
💡 Don't miss this golden opportunity to ace your CSE! ✨
Join Asiawise and raise your chances of success! 🌟
💻 Enroll now at www.asiawiseu.com and secure your future with confidence! 🏛️📖
📚🌟 Celebrating the Guiding Lights of Knowledge
on World Teachers' Day! 🌟📚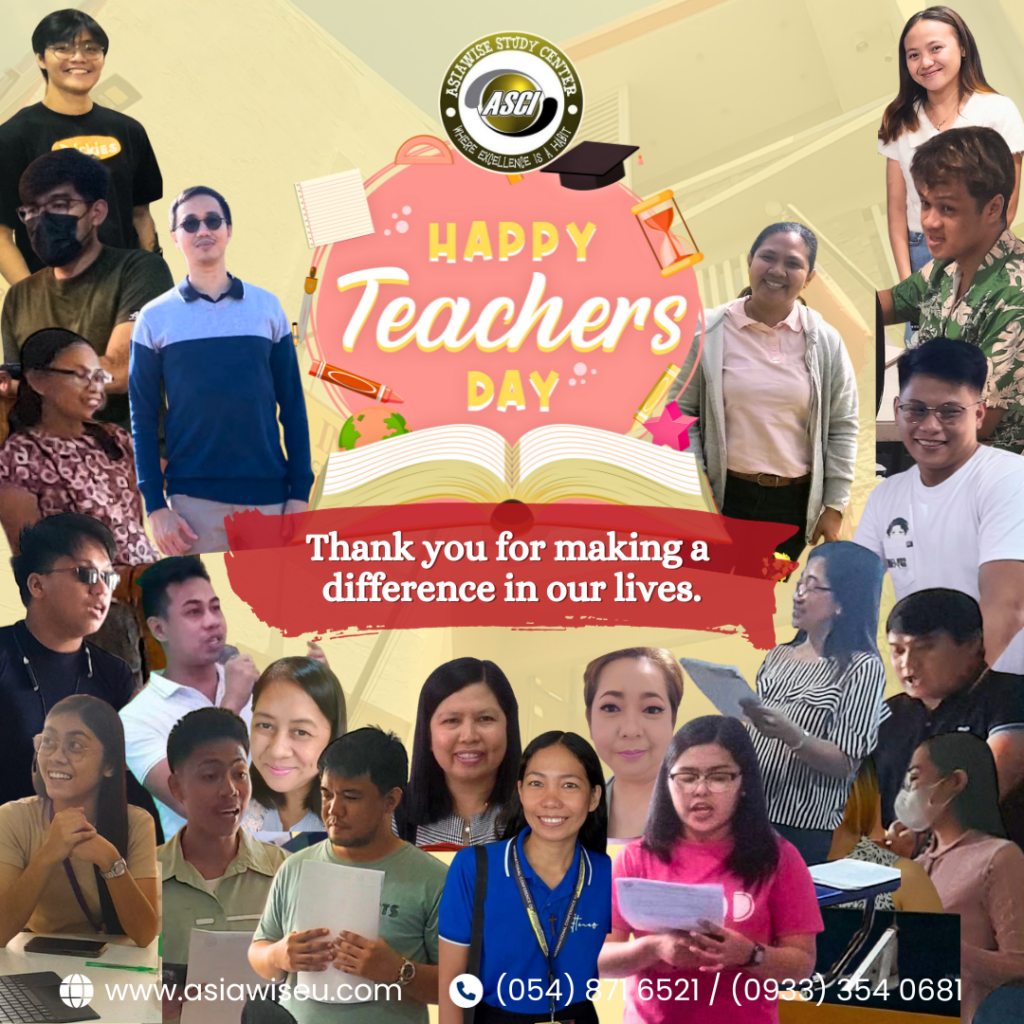 At Asiawise Study Center, we stand in awe of the remarkable dedication, unceasing passion, and steadfast commitment of teachers spanning the globe. 🌍✨ Your profound influence isn't just felt in the classroom; it's the cornerstone of the world's progress, molding the future, one student at a time. As we celebrate World Teachers' Day, we extend our heartfelt gratitude to you, the true stars of education! 🌟
📖 Happy World Teachers' Day! 🎉💐
🚀 Boost Your Career with Asiawise CareerBoost! 🎯
Ready to take your career to new heights? Asiawise CareerBoost is here to empower you on your professional journey. 🌟
Our exclusive program is tailor-made for job applicants, career changers, and those seeking advancement. 📈 We'll provide you with the tools and guidance to enhance your resume, master the art of cover letters, ace interviews, and unlock your full potential! 💼
Don't let opportunities slip away – seize control of your career development today! 🌠 Take that leap forward towards your dreams. Join Asiawise CareerBoost and let success be your companion! 💪
Enroll now at www.asiawiseu.com and embark on your path to success! ✨